Sep 29, 2021 - MB Potato Report #20
Dr. Vikram Bisht
Potato & Horticultural Crops, Manitoba Agriculture
The week of Sep 13-19 was generally cool and was followed by cooler week of Sep 20-26 with day-time highs between high teens and 20s (Fig1, Table 1). Overnight cooler temperatures have started going further lower, with some western weather stations recording overnight minus temperatures (Table 1).
The temperatures are forecast to continue in the high-20s C in the mid-week, but cool down to around 20s later for a few days. (Manitoba - Weather Conditions and Forecast by Locations - Environment Canada, www.mbpotatoes.ca/weather.cfm). There were minimal and scattered precipitation on Sep 16 and 20th.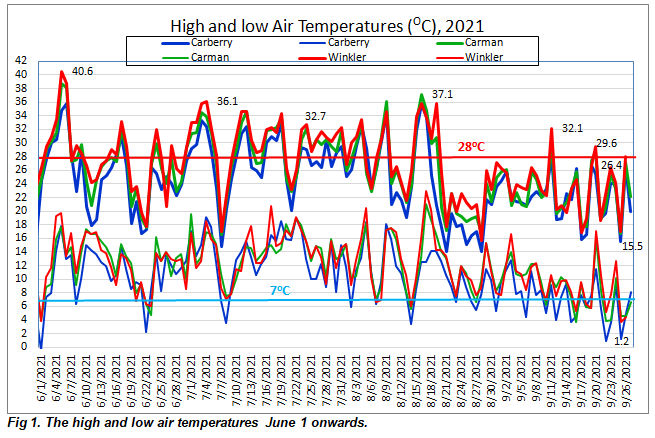 There was minor precipitation in week Sep 13-19 and even less during Sep 20-26. The soil moisture (relative to field capacity for the soil profile) in top 30 cm zone has gone from generally optimal (2 weeks ago) to "dry and very dry" in many potato-producing areas (Fig 2). https://www.gov.mb.ca/agriculture/weather/pubs/field-capacity-based-top-30-sm.pdf.
The minor and scattered showers across Manitoba potato producing areas did not affect harvesting. Cumulative rainfall, as % of normal, is still quite below normal (61 to 70% of normal) in the Portage, Morden/Miami and Winker potato growing areas. Shilo and Rivers were around 100% of normal and St. Claude close to normal for the season.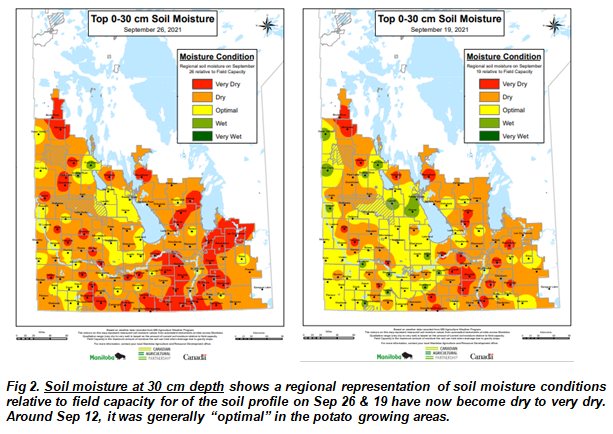 Crop water demand from Sep 13-19 was higher than last week, and ranged from 29 to 37.6 mm (generally around 1.1 to 1.5 inches) (Table 1). In week Sep 20-26 the crop water demand was similarly high, due to lack to significant precipitation.
Water deficit (crop water demand not met by rainfall, CWD – rainfall) – there were very low precipitation, thus the water deficit for the week of Sep 13-19 ranged from 23.4 to 32.0 mm (0.9 to 1.3 inches) and for week of Sep 20-26 ranged from 20-32 mm ( 0.8 to 1.2 inches) in various potato growing areas.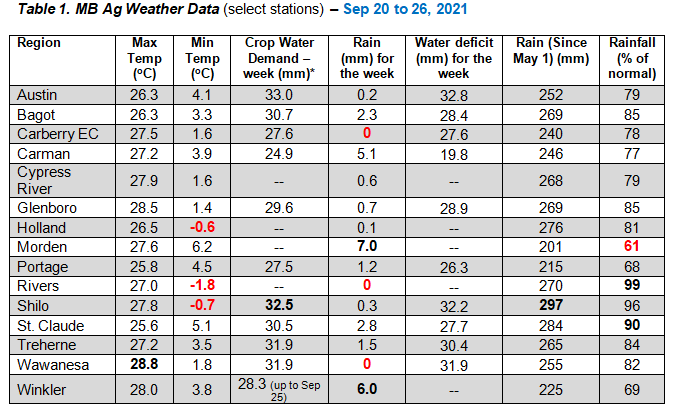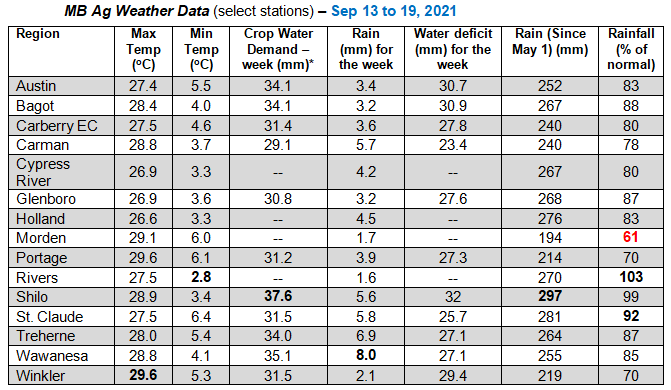 Late Blight:
Although, Phytophthora infestans spores were trapped from two sites in July, there was no late blight disease reported from Manitoba in 2021. Late Blight (mbpotatoes.ca). Currently, the 7-day DSV numbers indicate very low late blight risk.
Potato Harvest:
Harvest conditions have been good so far, and no significant precipitation or freezing conditions are forecast for the coming week. In fact, Sep 27 to 29th (Monday to Wednesday) are forecast to be warm >27-32C in different potato growing areas – and harvest may need to be stopped to prevent bringing in warm tubers.
The harvesting is at varying stages in different parts of Manitoba; close to 85-90% in the western MB, about 75-90% in central areas and about 50-75% in the south-east of the province. Some farms are waiting to allow the tubers to size up, benefitting from the warm weather – thereby extending the growing period. Within a week, harvesting is expected to be >95% for the province.
Though some farms are reporting better yields than last year, generally there are reports of average to low yields in less irrigated areas.
The number of days with 30OC or over (not conducive to potatoes) were more in 2021 than 2020 (Fig 3); and 2020 had more than 2019. Extended hot days during the 2021 season have impacted the tubers shape and size uniformity in some fields. It is too early to tell the overall impact on the potato supply chains.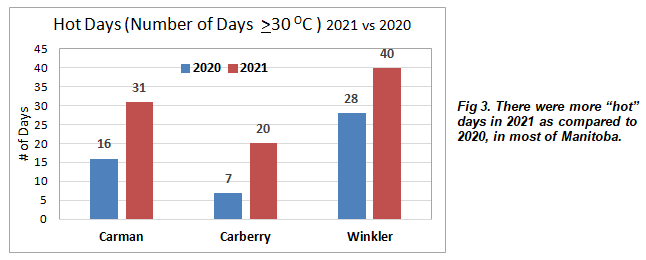 This is the last potato report for the 2021 crop season.
Thanks to all the cooperators.
I take this opportunity to thank industry agronomists: Scott Graham, Leon Jarvis Tavis Mangin & Landon Thomson (Simplot), Steve Saunderson, Janelle Lavich (Choice-Agri), Trevor Thornton & Greg Dyck (Crop Care), Daylen Moir (Delta Ag), Kurtis McKee (JP Wiebe Farms), Kurt Ginter & Harrison Loewn (KR Crop Check), Kelvin Jarvis & Tyler Workman, (Jarvis Consulting), Susan Ainsworth (Stolon Glance), Devon Wilson (UTH farms), and also Dan Sawatzky (KPPA), Tracy S. Carnelly Mario Tenuta (Univ of MB) and various farms for in-season updates on crop & pest information, disease samples, support for the aphid & ECB monitoring and Early Dying Surveys.
This year's Late Blight Spore Traps Network was supported by Simplot Canada, McCain Foods, Manitoba Ag, Peak of the Market, MHPEC, Choice-Agri, Jarvis Consulting, Stolon Glance, Heritage Co-op, Delta Ag, KR Crop-Check and the Sporometrics Team.
Special thanks to my summer student, Phoebe Riddell and other MB Agriculture staff - Tracey Cummer, Tom Gonsalves, Manika Pradhan; AAFC staff Curtis Cavers, Leonard, Zheng & Neil.
Finally a big thanks to WIN (Weather Innovation Consulting LP) for maintaining the website www.mbpotatoes.ca and support for late blight forecasting.
To see the full report with tables and figures, please click on the link:
http://www.mbpotatoes.ca/index.cfm. All previous 2021 reports will also be available at this site.