Jun 23, 2022 - MB Potato Report #6
Dr. Vikram Bisht
Potato & Horticultural Crops, Manitoba Agriculture
Rainfall was quite scattered and variable across Manitoba in the week (June 13-20) from 9.0 mm in Morden to 104.2 mm in Austin. Like last week, southern potato growing areas received lesser rains during this period. On June 20-21, there were additional thundershowers, soaking the already wet fields across MB, except southern potato areas. So far, the rainfall at many sites has been nearly 124% (Altona, Morden) to over 250% (Austin, Bagot), while Carberry and Rivers are over 200% of the 30-year normal for different station sites (Table 1). http://www.gov.mb.ca/agriculture/weather/pubs/percent-normal-precipitation.pdf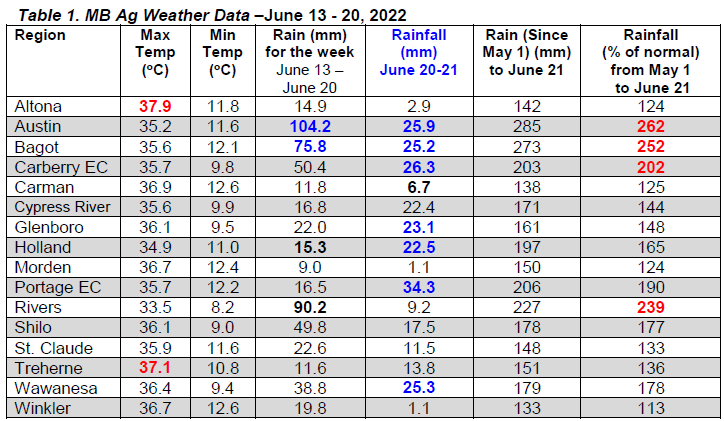 With temperature highs in mid 30sOC, the week of June 13-19 was warmer than the previous week, especially Altona and Treherne (Table 1). There were a couple of hot days (up to 37OC) across Manitoba, which dried out the fields a bit; but then rains on June 21 soaked many of the fields again.
Accumulated Potato heat units (useful heat 7OC to 30OC) from June 6 -19 across the potato growing areas of Manitoba range from 100-111. This is close to or just above normal so far (Fig 1), though it was cooler earlier in the season.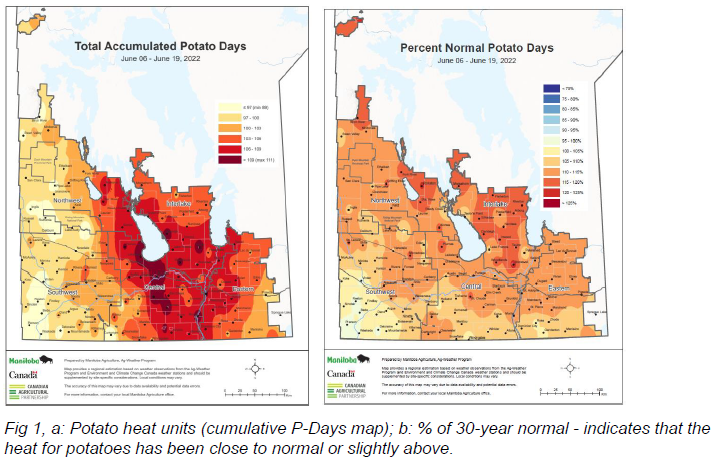 https://www.gov.mb.ca/agriculture/weather/pubs/total-acc-p-day.pdf
https://www.gov.mb.ca/agriculture/weather/pubs/percent-normal-p-day.pdf
Based on water holding capacity, the top 30cm soil zone has been drying up a bit from very wet conditions to nearly optimal in many potato growing areas (Fig 2). Very wet soils are drying out at the surface 5 cm, especially, as a result of the intense heat on June 19. As a result, some areas had irrigation pivots running to keep the top soil cool.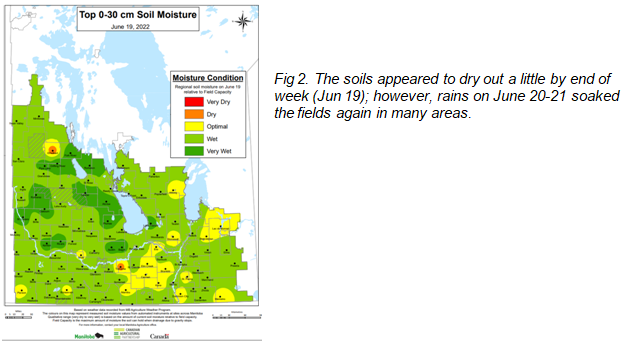 https://www.gov.mb.ca/agriculture/weather/pubs/soil-moisture-30cm.pdf
By June 18 all potato acres planting had been completed. Due to warmer soil temperatures and good moisture in later planted fields, the emergence has been reported to be quicker, 2.5 to 3 weeks. June 3 planted fields have emerged in some areas.
This week, around 75% of fields are reporting emergence (Fig 3). Agronomists are reporting occurrence of seed rot in wet spots. Seed piece rot risk remains high in poorly drained soils due to heavy rains on June 20-21. Some early planted fields are now showing hooking (Fig 4).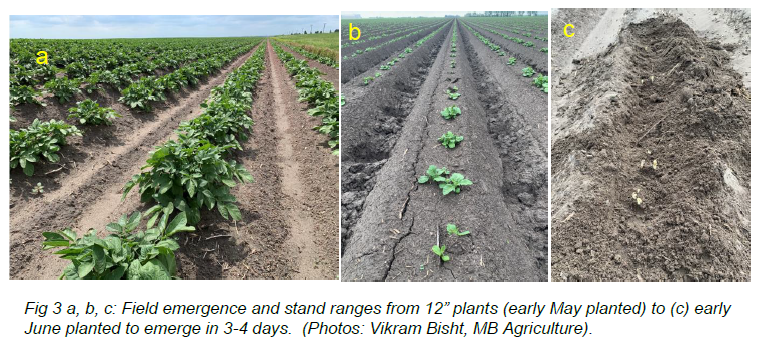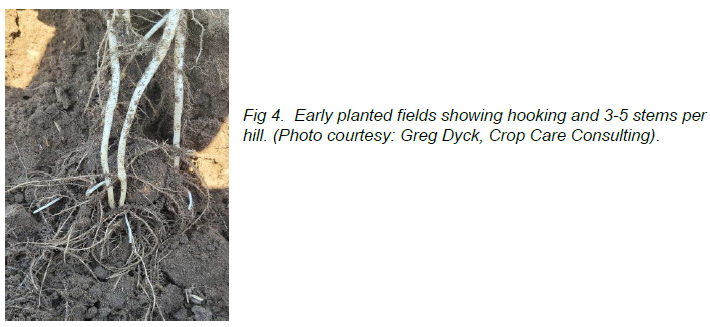 As the crop grows well with good soil moisture and temperatures, there are some issues that are showing up. In moist / wet soils seed rot (Fig 5) is expressing as missing plants in rows.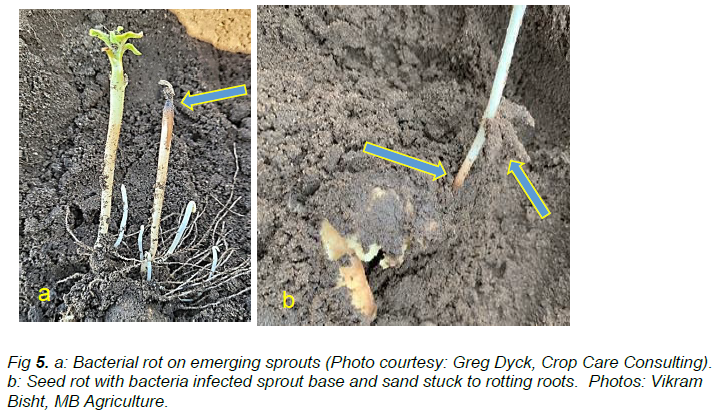 Rhizoctonia infection on emerging stems (Fig 6) favoured by cool and wet soils can reduce the vigor of the plants and possibly blackscurf later.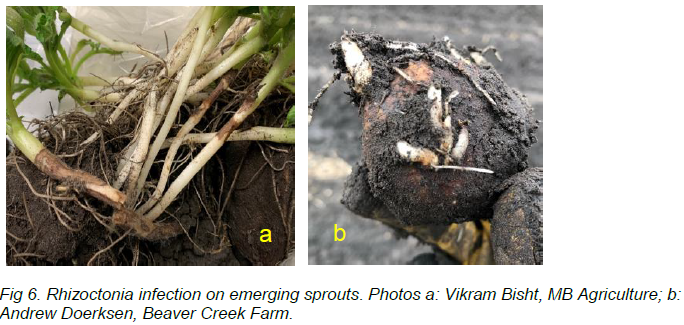 Plants with herbicide-like malformation, typical of Group 4 herbicide (Dicamba, 2,4 D) exposure (Fig 7 a) seen in a field. Depending on severity of injury the plants could have lower yield. There are plants which show similar but lower intensity symptoms of malformed leaves (Fig 7 b) and have been attributed to be physiological in nature, heat induced – such plants turn out to be normal as the crop grows.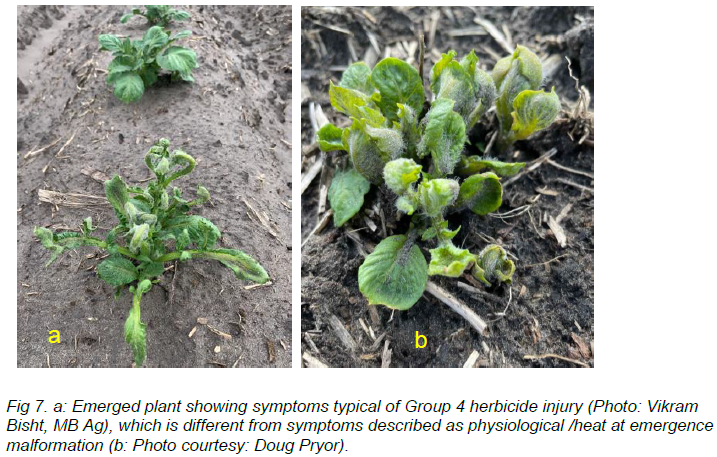 Early sightings of Colorado potato beetle egg masses was reported from Winkler area (Fig 8). Winkler area has higher incidence of insecticide resistance reports.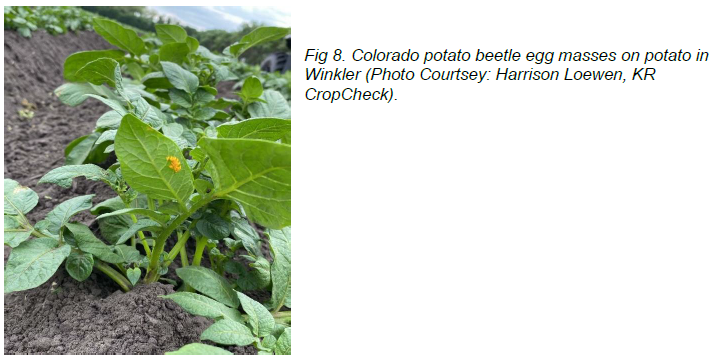 It is time to take care of the cull piles that may be still around farm yards or fields (Fig 9). These cull piles can be source of diseases, like late blight and insect pests like aphids and Colorado potato beetles with varying insecticide resistance profiles.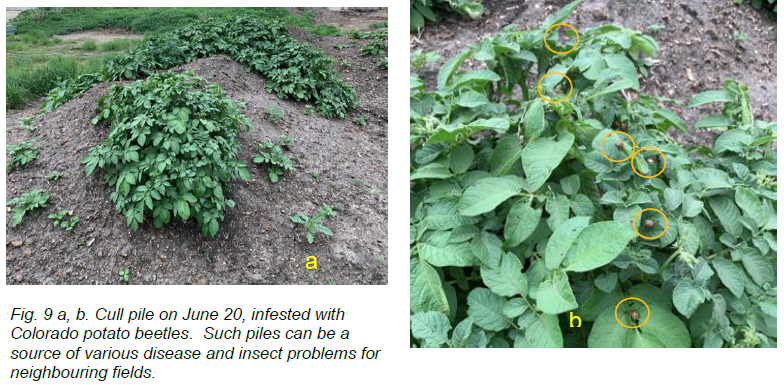 Late blight risk forecasting been started, based on the Manitoba Agriculture's Permanent Weather Stations data from over 20 sites. The late blight Disease Severity Values (DSVs) are accumulating fast at various sites (Fig 10), especially during June 12-21 rains. There is moderate risk for disease development, if spores were present.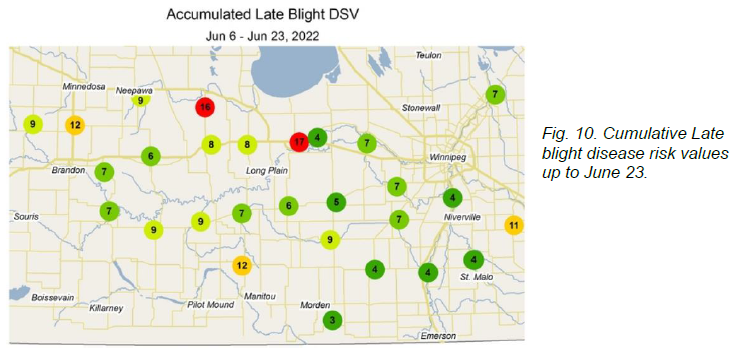 Late Blight (mbpotatoes.ca) (http://mbpotatoes.ca/dsv.cfm)
As a supplement to the Weather based late blight risk forecasting, Sporonado passive spore traps for late blight spores have been set up in many site across MB to provide early warning of possible late blight risk. Traps were set up only in field sites where crops have emerged and have some growth. First week's (June 13 - 20) PCR test results for presence of Phytophthora infestans (Pi) spores are all negative at Wawanesa, Melbourne, Cypress River and Winkler.
Suction traps for aphid monitoring have been set in some of the seed fields. Monitoring will begin soon.
This report is compiled using information from potato growers and agronomists. Please contribute if you have some information or photos to share.