Aug 5, 2022 - MB Potato Report #12
Rainfall was sparse and generally low for the week (July 25 to Aug 01), and ranged from 5.5 mm to 26.6mm. South and eastern MB potato areas got more rain.
So far, the cumulative rainfall at many sites is now closer to normal (Altona, Carman and St. Claude), while Austin, Bagot and Rivers are still >175% of the 30-year normal (Table 1).
https://www.gov.mb.ca/agriculture/weather/weather-conditions-and-reports.html
http://www.gov.mb.ca/agriculture/weather/pubs/percent-normal-precipitation.pdf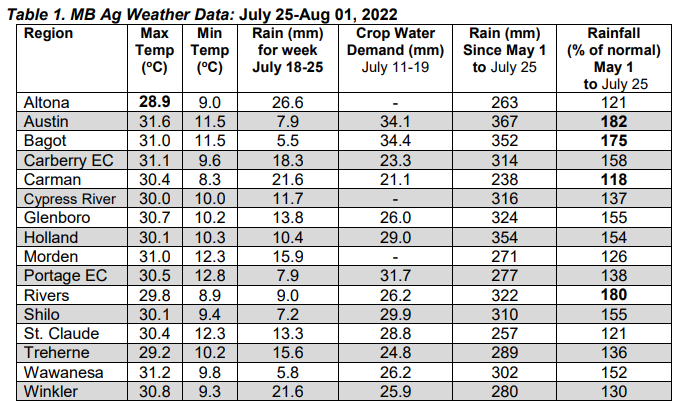 Temperatures for the week (July 25 - Aug1) with daytime temperatures in low 30sOC, and nighttime close to 10OC, were slightly warmer days and but cooler nights as compared to last week (Table 1), which was good for tuberization and bulking. The crop water demand (CWD) for the week was higher than the rainfall could suffice at almost all sites (Table 1).
Accumulated Potato heat units (useful heat 7OC to 30OC) from June 6 –Aug 1 across the potato growing areas of Manitoba range from 454 to 482 (Fig 1). This is close to or just above normal so far, 105 to 115% of normal. Around 300 P-Days there is risk for early blight occurrence and targeted protection fungicide program should be considered for susceptible varieties under the current warm and humid conditions in Manitoba.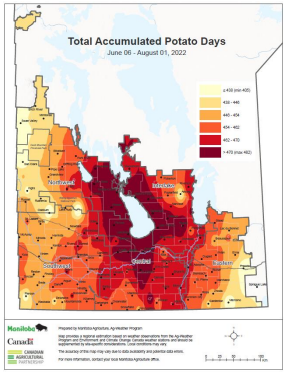 Fig 1. Potato heat units (cumulative P-Days map) are in range of 454 to 482, and just a bit warmer than 30-year normal in potato growing areas.
https://www.gov.mb.ca/agriculture/weather/pubs/total-acc-p-day.pdf
https://www.gov.mb.ca/agriculture/weather/pubs/percent-normal-p-day.pdf
Based on water holding capacity, the top 30cm soil zone is wet to optimal soil moisture in many potato grower areas.
https://www.gov.mb.ca/agriculture/weather/pubs/soil-moisture-30cm.pdf
Tuber set in many fields is good and sizing is progressing satisfactorily (Fig 2 a,b), but in some fields impact of heat stress can be noticed (Fig 3). There have been a few >30C days in previous weeks.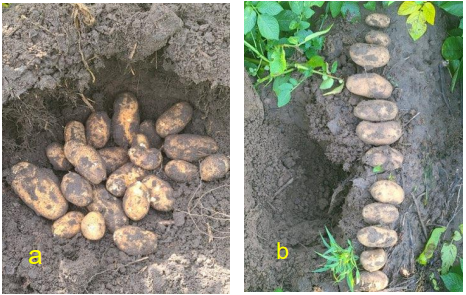 Fig 2. Tubers set appears to be good in many fields. Photos a: Russet Burbank; b: Dakota Russet. Photos: Kurtis McKee, JPW Farms.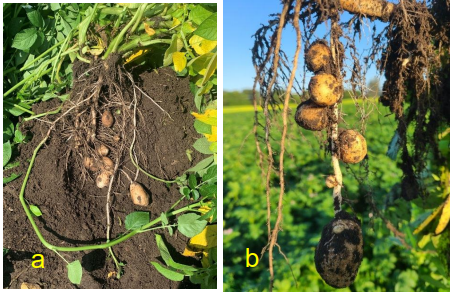 Fig 3. In some fields heat stress has been noticed. a: Russet Burbank with heat runners (Vikram Bisht, MB Ag), b: another variety showing tuber chaining (Kurtis McKee JPW Farms).
Late Blight:
Due to frequent rains and warm air temperatures, the cumulative late blight Disease Severity Values (DSVs) have exceeded critical 18 DSV in all potato growing areas. The 7-day cumulative DSVs (Fig 4) suggest moderate to high risk conditions for late blight disease throughout the province, if late blight inoculum was present.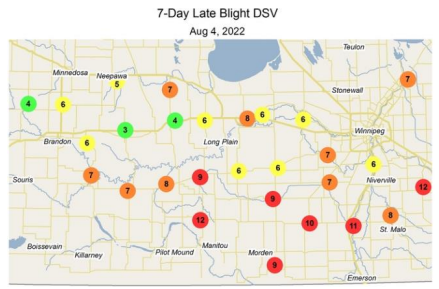 Fig. 4. Late blight disease risk values for 7-day and Cumulative up to Aug 4. Late Blight (mbpotatoes.ca)
Sporonado passive spore traps for late blight spores have been set up at 18 sites across MB to provide early warning of possible late blight risk. Sixth week's (July 25 – Aug 2) PCR test results for presence of Phytophthora infestans (Pi) spores are negative at all 18 of 18 site samples submitted (Table 2).
it is important to scout for late blight even in the absence of spore detections, especially in wind-protected areas of fields – near treeline, low lying areas or areas not covered by fungicide. In Fraser Valley Sumas region Sporonado spore traps did not detect Phytophthora spores even though the late blight disease has been reported in the region for 3 weeks.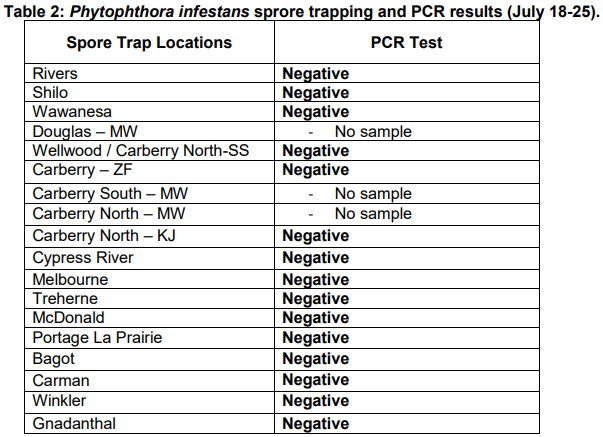 July 25 BC newsletter:

Blackleg disease continues to take down a few plants in various fields. Injury points on stems (ECB bore holes and hail damaged stems) are common entry points for the bacteria leading to aerial stem rot infections. These infections and also infected plants on potato cull piles act as source of inoculum to spread readily with rain and wind during thunderstorms.
Under the warm and humid conditions early blight disease is showing up in Russet Burbank also. Normally around this time Rangers and other early maturing varieties tend to show more early blight. Lower canopy should be scouted for early blight.
Aphid & ECB monitoring:
Aphid counts have suddenly jumped up compared to last week. Still only Potato aphids but no Green peach aphids were trapped in all seed potato producing areas. Potato Aphids are efficient vectors of PVY viruses and increasing trend in their numbers points to immediate control measures should be undertaken. If there are PVY infected plants in the vicinity, probe feeding by "other aphids" can also spread the viruses.
Along with regular "mineral aphid oil" sprays, insecticide targeting aphids should be considered as a tank mix.
The total "other" aphids are very low as compared to last year at this time (around Aug 2). As yet no Aster leafhoppers or Potato leafhoppers have been trapped in the pans.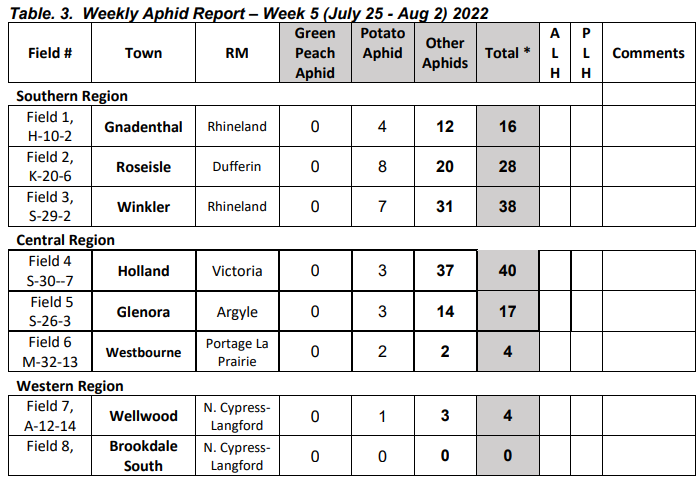 * The aphid counts are a summation from a suction trap and two pan traps in a field. ALH = Aster leafhopper, PLH = Potato leafhopper
ECB monitoring with Iowa strain pheromore lures in Delta traps is continuing to trap more adults at some sites (Table 4). It is time to look for egg masses and early stages of larvae. If you find them, please gather some for me for strain identification study. Small larvae are now boring into stems and enlarging. Wilting top 4-6" of the branch is an indication that ECB boring has started, and borers and larvae can be seen inside the stems (Fig 5 a,b,c). These bore holes can be entry points for stem rot bacteria. Insecticide may be considered in areas with history of stem rot issues.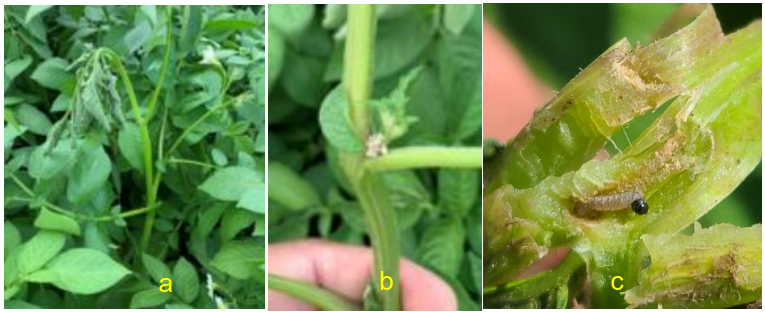 Fig. 5. European Corn borer on potato stem: a, b: Wilting top indication of borer hole with frass (Vikram Bisht, MB Ag); c: ECB larva inside a potato stem (Kurtis McKee, JPW Farms)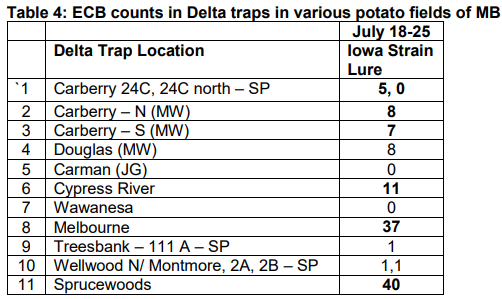 Colorado potato beetle young larval instars at different stages can be seen in some fields even after foliar insecticide application. This could be an early sign of resistance development in new areas.
This report is compiled using information from potato growers and agronomists. Please contribute if you have some information or photos to share.